Okay, so Pitt played Seton Hall today. And as is always the case when Pitt plays the Pirates, I must talk about Herb Pope.
Simply put, Herb Pope is one of my favorite players of all time, of all time. And now a brief history. He played basketball at Aliquippa High School and graduated the same year I did (2007). He was a beast there. But he also grew up with the wrong crowd. He verbally committed to Pitt as a sophomore, but he realized that he had to get away from here. He had bounced around to several different homes and schools his entire life.
A timeline:
2006 - Was the Post Gazette player of the year as a junior
On another note, the fabulous five that year was Blair (NBA), Pope, DJ Kennedy (4-year starter at St. John's), Terrelle Pryor (#1 football recruit in nation and 3 year professional at the ohio state university) and Jonathan Baldwin (you're reading a Pitt blog, you know what he did). For western Pa not having a big reputation for basketball, that's a hell of an all-star team. Pryor and Baldwin both had several d1 offers for basketball as well.
Fall 2007 - 2010 - Enrolls at New Mexico State, but is ruled ineligible for the first half of the season because some class he took online didn't count. (Oh I'm sorry, it was kind of hard for him to keep track of his credits when he was in 4 different high schools and had 4 bullets in him). Anyway he played the second half of the season and was a beast. He transferred to Seton Hall, sat out the 08-09 season then proceeded to lead the league in rebounding during the 09-10 season.
Honestly, it's impossible to not root for this guy. He's been through more crap than any 22 year old should ever have to deal with. He's become a cult hero to my dad and me. The phrase "yeah but he's no Herb Pope" is said quite frequently.
Example:
Me: [Insert player name] scored 25 last night.
Dad: Yeah, but he's no Herb Pope.
Me: Few people are.
He's currently projected as a second round pick. I really hope he makes it.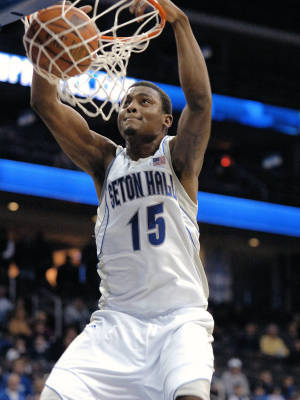 Oh, there was a basketball game played today...oops.
Why you shouldn't hate the Hall: If Herb Pope wasn't enough, one of my best friend's fiancee works as a missionary there. Oh and it's a Roman Catholic school. Boss.
This game wasn't supposed to be on television, which is probably some type of evil sorcery orchestrated by people who are threatened by this blog (cough cough The Pitt News).
I haven't ripped on them in quite some time.
The Pitt News is awful. In fact, if you write for the Pitt News you shouldn't even be on this blog, you should be at home, coloring.
"Aren't you going to talk about the game?"
Shut up haters.
The game was eventually picked up by WTAE so it was all good.
Recap city:
The first half was all about some joke player from the Hall named Cosby hitting unlimited 3's. He was 5-6 at one point. Patterson kept the Panthers in it, and the Hall led by 2 at the break.
Pitt had a player named Attila Cosby during the dark ages. He was a decent shot-blocking forward. He was also crazy. He was kicked off the team for fighting assistant coach Orlando Antigua. Then he transferred to George Washington where he beat up a 46 year old prostitute. A lot of people how messed up the Pitt program was when Howland took over in 1999. At one point, I am pretty sure almost every player had been arrested. Two players who weren't involved with the popo? Brandin Knight and Jaron Brown, and you know how they turned out. Howland kicked like 6 guys off his team and basically started fresh. Anyway, the coach who recruited all of these criminals and almost directly caused the end of the Pitt Panther basketball team, Ralph Willard, also has a son. And of course that son, Kevin Willard, now coaches you guessed it, the Seton Hall Pirates.
Ahhh man, I told you there was a point to that story.
Is this post even about this game?
I don't even know anymore.
Anyway, Pitt had a 61-55 lead in the second half, and I was starting to believe. Gibbs was carrying the team (he had 26). But then they went ice cold and the Pirates got hot again from 3. Back to back triples and suddenly Pitt was down 66-62. It was 67-66 when the Pope got lose off a pick and roll and layed it in with 30 seconds left. Zanna completely lost him. So then on the next possession Woodall had his pocket picked, and when Seton Hall tried to play keep-away Robinson tried to murder Pope and was called for a flagrant one. Okay, it wasn't that bad. Total bs call.
It's probably not a good idea to piss off Herb Pope.
Pope hit the free throws, was fouled again and hit 2 more and Pitt didn't score again. Final.
Robinson was a combined 0-10 from the line and field until 5 minutes left when he got a layup. Woodall was 2-10, and none of the bench helped out. It was the Patterson and Gibbs show and it wasn't enough. This officially ends Pitt's streak of 10 consecutive seasons with at least 10 Big East wins, the streak of 20+ wins is also in jeopardy.
NIT! NIT! NIT!
I predict Pitt will get to the Average Eight of the NIT and then blow it in spectacular fashion because they can't make the Final Four of any tournament.
Hilljacks come to the Zoo on Thursday night,
JO