Wooooooooooooooooooooooooo!
Let's pretend it says basketball okay?
I'm going to start this post off by wishing my mom a happy 57th birthday today. She's pretty awesome. A little back story, my dad used to have season tickets to Pitt basketball during most the 1980s. After they got married in 1980, he started bringing her.
Poll Question: If you asked my mom what her favorite thing to do at these games was, what would she answer?
A) "I loved watching Big East basketball at its peak."
B) "The food."
C) "I loved slapping their big butts when they went to the locker rooms."
If you answered, C, then you would be correct. Her favorite ass? Well that would belong to hall of fame Georgetown and New York Knicks great Patrick Ewing.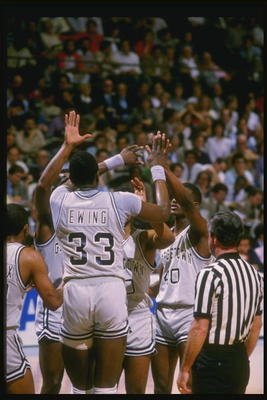 "Dat ass" - My mom
On a much less gay note, it was also the 24th anniversary of this:
This was voted the #1 NCAA dunk of all-time.
Video of the top 50 is here (worth watching if you have 14 minutes to spare)
#6 on the list belongs to this man
Forgot to add this from last game. What a player.
Julius Page does a pre-game show on the radio and he had an interesting comment.
"They can't let their offense lead to defense."
Normally, you hear coaches saying that you want your defense to lead to offense, meaning turnovers and easy points in transition. But what Julius meant is that the Panthers can't let the fact that they're not shooting well on the offensive end impact their hustle on the other end of the floor. He pretty much hits the nail right on the head for the last several games for Pitt (until tonight). Pretty solid analysis for someone who wears his hat backwards.
And lastly, before I actually recap this game, I can't talk about Pitt Providence without posting this:
"Releases it in time...AND BURIES THE SHOT!!!"
"They just don't lose at home"
Oh man, that second quote stings a little this year, doesn't it?

But Pitt won.

They might not lose again the rest of the year.

"Yeah but Providence stinks"

Jump in a pool of acid. Hail to Pitt.

Grade Time.

Gibbs - He was on fire in the first half, picking up 16 of his team-high 22 in the first 20 minutes. During about a 45 second stretch he hit 3 triples in a row and broke the Friars' will to live early. Here's one of those threes:

The crack against Gibbs is that he has been too reliant on the three this year. He used to hit 3 or 4 mid range J's a game and it did wonders creating space for him and his teammates. With the way Pitt has been struggling and giving up early leads Gibbs has had to let fly from deep a lot more than he should. Here's a play that happened a few minutes before Gibbs caught fire from deep and it has a lot greater impact than the 2 points on the scoreboard.
Gibbs coming off a curl, gets a screen and pops the 17 footer. Money in the bank. Why does Pitt not do this more?
Regardless, very nice game from Mr. Gibbs. Grade A+

Travon Woodall - Well the rust from last game is gone. Woodall was hotter than Gibbs from deep, going 4-4 from downtown to finish with 17 points and 9 assists vs 1 turnover. We need this from Tray every night for the rest of the season. You want proof of the effect Woodall's absence had on this team, watch this game tape. Grade A+

Lamar Patterson - Almost a double double from Lamar with 9 points and 11 boards. He was a force on the offensive glass keeping several plays alive by tapping the ball away from the Providence bigs down low. Something I noticed about Patterson is sometimes it seems like he's going in slow motion when he's driving. I'm not sure it's a bad thing, it's pretty obvious he doesn't have Woodall or Johnson speed, but it's just something I thought watching tonight. Anyway. Grade A

Nasir Robinson - Nas shot better in this game (7-13) for 14 pts and 6 rebounds, and most importantly he only turned the ball over twice (2 to's or less has to be a goal for him every night). However he also tried to knock down a jumpshot from just inside the foul line. Let me just say that if Nas' jumpshot fell out of the ugly tree it would every branch and twig on its way to not being in the basket. Honestly, can Pitt hire a shooting coach to work with him? His jumpshots rotate sideways. Shooting a basketball is not that effing hard. I'll even volunteer to help him. Nas if you read this (you obviously aren't cuz only like 3.7 people actually do) Help me help you. Help me help you.
He's a lot more effective when he's doing things like this

Grade A-

Talib Zanna - He had a couple tip-ins and a few rebounds, but nothing spectacular. I'd give him an A, but he attempted to drive and pull up for a contested shot early in the shot clock once in the first half and for that he gets a B+

Dante Taylor - Shit game from Taylor 1-4 from the field for only 4 points to go along with 2 rebounds 2 turnovers and 3 fouls in 14 minutes. His best play was getting a homerun pass with 28 seconds left in the game and rather than try to beat the last defender off the dribble stopping and pulling the ball back out. Smart play, even though it didn't really matter. Grade C

Cameron Wright - Missed all three of his shots and didn't do anything of merit. Grade C-

JJ Moore - He made a shot, but didn't do much else. I really hope his career mirrors Sam Young's (wishful thinking probably). Young had a very solid freshmen campaign (avg about 7.4 a game) then regressed his sophomore season as he struggled to find playing time behind John Degroat and Levon Kendall (seriously Dixon, he couldn't beat those guys out?) I don't think Sam left the gym that entire summer and he came back and dropped 22 and 9 on Houston Baptist in my first game in the Zoo in 2007, and we knew we had a star. Maybe it'll happen with JJ? I'm really looking for him to make the traditional Dixon sophomore to junior jump (previously seen with B. Knight, A. Gray, S. Young, G. McGhee, B. Wanamaker, etc.) Grade for this game though, C+

John Johnson - He shot 3-4 from the field for 7 points with 2 assists vs 0 turnovers. You can't ask for a better game from him. He gave Ashton and Tray a breather, didn't turn the ball over and knocked down open shots. Also, at the end of that Nas video is Flipp drilling a three. Grade A

Stats of the game: Pitt only committed 10 turnovers and shot 55% (11-20) from 3.

Georgetown comes to the Pete on Saturday. Let this game be a springboard back to respectability.
Hail to Pitt,
JO